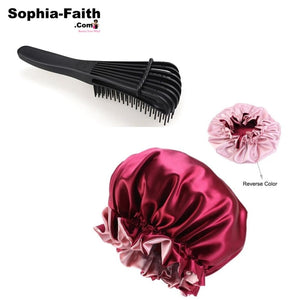 PRODUCT DETAILS
1 Wine-Red Reversible Satin Bonnet
1 Afro Detangler Brush (Black)
Details:-
Reversible Satin Bonnet:
Seal the moisture of the hair to the greatest extent and increase the luster. 
Prevents hair from coalescing and makes styling easier. 
Protect hair from dryness and roughness.
Perfect gift for women with natural hair, long curly hair or short hair.
Afro Detangler Brush:
Natural hair brush for detangling wet or dry Afro 3a to 4c Wavy Kinky or Curly, Coily hair. Detangling without pulling hair to reduce pain. Detangle large sections of hair easily and in very little time. Also suitable for children.