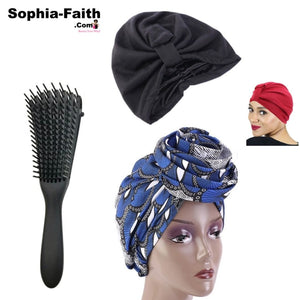 PRODUCT DETAILS
1 Satin Lined Pre-Tied African Pattern Knot Headwrap ( Royal Blue White)

1 Satin Lined Turban (Black or Dark Blue)

1 Afro Detangler Brush (Black)



Details:-

Satin Lined Pre-Tied African Pattern Knot Headwrap: 
Give your outfit a seriously chic update with this statement Pre-tied African pattern knot turban headwrap.

Satin Lined Turban:

Double Layer Satin Lined Turban, Good quality, stylish and comfortable.  Provides great hair protection with satin lining along with keeping your head warm.

Afro Detangler Brush:

Natural hair brush for detangling wet or dry Afro 3a to 4c Wavy Kinky or Curly, Coily hair. Detangling without pulling hair to reduce pain. Detangle large sections of hair easily and in very little time. Also suitable for children.